Heart Damage in Marathon Runners
Marathon runners who are not in peak condition do get changes in cardiac function indicating some damage to their hearts durig a marathon run. these changes do revert by three months back to normal. If I were planning to run a marathon, I would consult a cardiologisit and have at minimum an EKG and stress test first.
Marathoners experience transient heart changes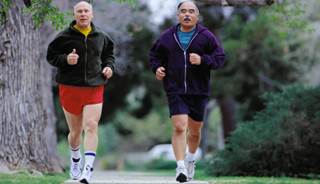 The effects of exercise on LDL
HealthDay News -- Marathon runners, particularly those who are less fit or less trained, may experience transient impairments in heart function, study findings indicate.
Although everything returns to normal after 30 days, adverse cardiac changes often occur in the two days following a marathon, with the most pronounced changes occurring in the least fit athletes, Valerie Gaudreault, MD, from Université Laval in Québec City, and colleagues reported in the Canadian Journal of Cardiology.
http://www.clinicaladvisor.com/marathoners-experience-transient-heart-changes/article/316331/?DCMP=EMC-CA_UPDATE&cpn=eliqcard&spMailingID=7187484&spUserID=MTE3MTc4MTE4MjAS1&spJobID=93548598&spReportId=OTM1NDg1OTgS1